Meet The Team
Who We Are
Matt Beischel
Founder & CEO
Matt is a designer, developer, and optimization specialist. He has a passion for creating efficiency and growth via knowledge sharing, process automation, and information organization, with 15+ years of experience in UX design, behavioral data analysis, and front-end web development. He collaborates with clients to run hundreds of split tests yearly and apply the intelligence gained from those tests to develop testing plans which dramatically lift website conversion and revenue.
Matt is a Cincinnati, Ohio native, and has lived there his whole life, with a 5-year sidequest in Syracuse New York where he earned a Bachelor of Fine Arts while attending Syracuse University. In his free time, he enjoys jogging, cooking, and video games, with his favorite game genres being retro, rhythm, and RPGs. He loves baseball and is a devoted fan of his hometown MLB team, the Cincinnati Reds. This means that his favorite holiday is, of course, Opening Day.
Krishna
Engineering Intern
Krishna is a student at the University of Cincinnati where he is pursuing a Masters in Computer Science. He is a software developer and data architect with a passion for software coding and database design. He is experienced in ASP.Net, SQL/MySql databases, Python, and front-end web development, and collaborates with the marketing team to develop databases, dashboards, web pages, and apps.
Krishna is from Andhra Pradesh, India. He teaches a variety of kindergarten level subjects for a Central Prison Boarding school in his hometown. He enjoys both watching and playing soccer and cricket, with his favorite players being Messi for soccer and MS Dhoni in cricket. Because of his love for his home country, the two-time champion India team is favorite cricket team on the World table. The Australian team is also on his radar due to its spirit of getting back when hit hard. His musical tastes lean towards Sirivennela Sitarama Sastri Garu; a cinema musical group composed of genre songs.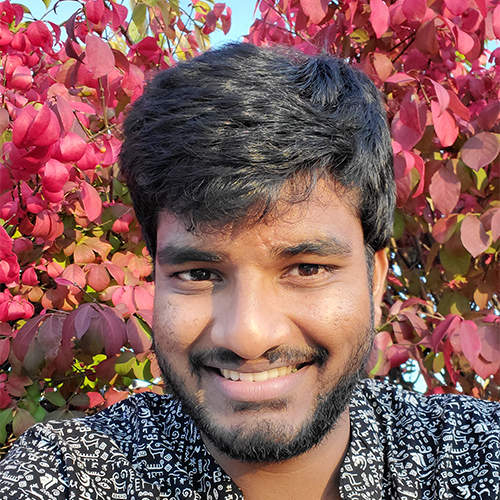 Elijah Ulsh
Marketing Intern
Elijah is a student at Ohio Northern University, pursuing a BA in marketing with a minor in business analytics. He has a passion for deriving meaning from data and translating it into digestible formats. His main responsibilities include conducting quantitative research through Google Analytics, report development, and sales processes improvement. He holds both beginners and advanced Google Analytics certification.
Elijah plays football at ONU and he is a part of Polar Careers which is the on-campus careers office. In his free time, Elijah watches the Cincinnati Bengals and hopes that, before he dies, they will win at least one playoff game. He enjoys going to the gym and playing video games with his friends. His current favorite game genre is battle royal, specifically Call of Duty Warzone. When he's not working, lifting, or playing video games, he's probably listening to country or hip hop/R&B.