What Happened at Corvus CRO This Week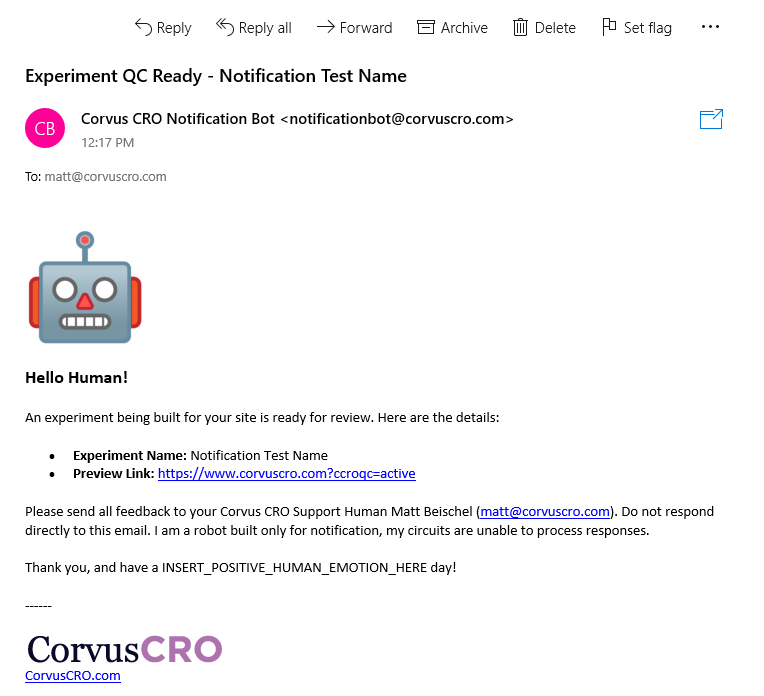 Notification Bot Gets an Email Address
A few weeks ago, the Slack Notification Bot went live. This week, I taught the bot how to email. Clients can now get automatic email notifications any time a test moves into the QC stage.
Some additional bot updates in the pipeline:
Accept/reject buttons inside the email
Process response emails
Turn it into a CROWbot (get it?)
Small, repetitive tasks add up over time time. Sure, that notification email only took a few minutes to prepare, but… how often did I have to write them? At least one for every split test, sometimes multiple if the test had to cycle through QC. Then, one or two new tests weekly per client. Those couple of minutes per email start to add up.
Automation is a wonderful thing. Humans should work on meaningful, important things and not get caught up in repetitious task execution. Building better CRO tools and process is what Corvus CRO does. Leverage technology; create freedom from drudgery.
Regarding the CROWbot, If you know an illustrator that can produce great vector icons, please send them my way!